News & Updates
MTV re:DEFINE honoree Marc Quinn takes on the Global Refugee Crisis One Drop of Blood at a Time
MTV RE: DEFINE HONOREE MARC QUINN TAKES ON THE GLOBAL REFUGEE CRISIS ONE DROP OF BLOOD AT A TIME.
Patron Magazine Feb-March 2019
Patron Magazine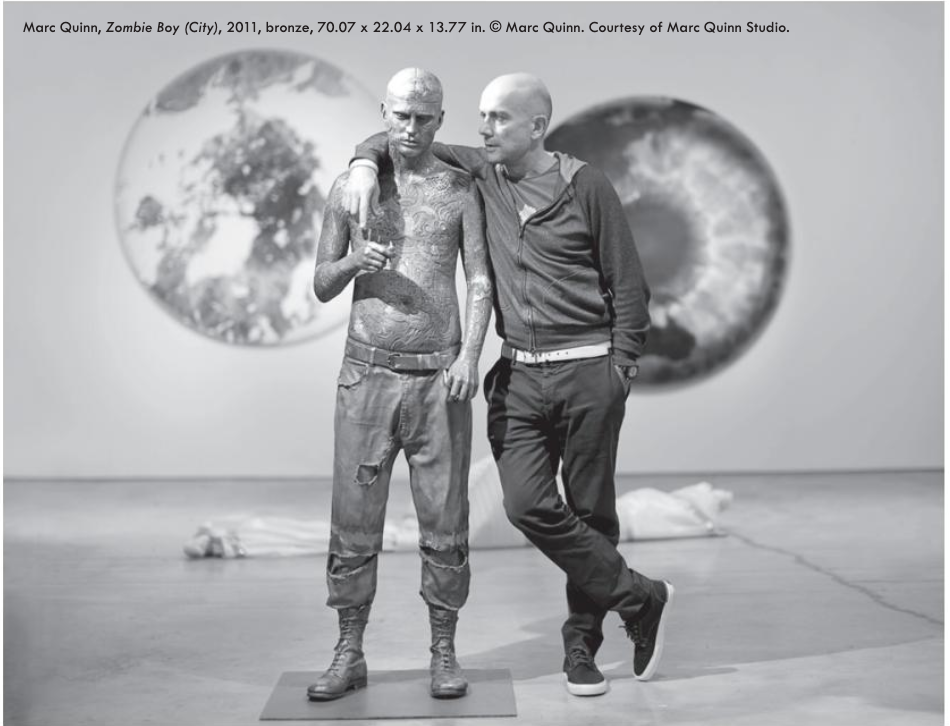 Marc Quinn has been coming to Dallas since the early 90s when his "blood head" sculpture Self, a cast of the artist's head created from 10 pints of his own blood,
entered the Rachofsky Collection. "I generally find Dallas to be one of the most interesting communities in the US and, in fact, the world. It's a community I want to engage with and support as well," shares Quinn, who will be fêted as this year's MTV RE:DEFINE honoured artist on March 29.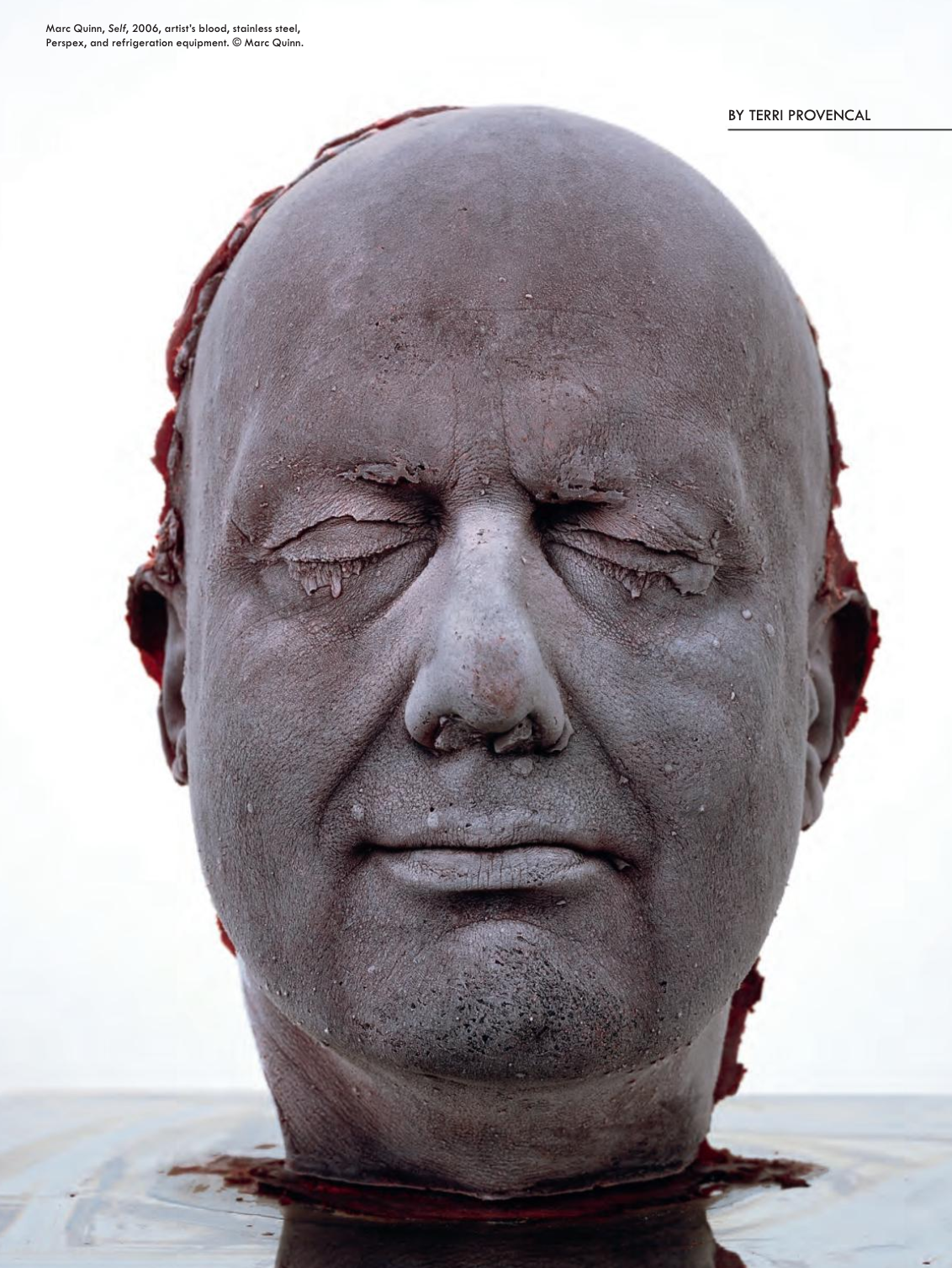 Quinn (b. 1964) is a contemporary British artist, and among the preeminent YBAs (Young British Artists), who investigates "what it is to be a person living in the world" through his museum- collected artworks exhibited internationally at notable institutions such as the Tate, the National Portrait Gallery, and Amsterdam's Stedelijk Museum among others. Addressing mankind's relationship to nature driven by human desire, the perplexities of identity and beauty, and the urgency of social issues of today, Quinn's practice spans sculpture, painting, and installation.
Considering him the ultimate humanitarian, Dallas' very own humanitarians, Joyce Goss and Kenny Goss, selected him for the award. "Marc personifies a man who is truly committed to philanthropy and support for MTV RE:DEFINE and other important causes." The duo are the co-founders of the auction and gala, now in its eighth year, which benefits the MTV Staying Alive Foundation and for the first time, this year will award financial support to a postgraduate fine arts student from one of the world's premier fine arts scholastic programs as they transition to the professional world.
Marc Quinn is happy to support their efforts. "Kenny and Joyce have been really close friends of mine for a while now, both through their collection and they had a show for me in their old space."
The self-titled survey took place in 2009 at The Goss-Michael Foundation in partnership with the Rachofsky Collection.
On being honoured this year he emphasizes, "It's a great thing to receive in Dallas. I've made a special new piece, which will be debuted at the auction, based on hands holding each other. It's from a whole new series about the different ways of communicating with each other. It's about the human touch. The sculpture looks like something from a classical civilization as well as space age."
Quinn, who consistently donates artworks to RE:DEFINE and attends the event regularly, sat next to Nancy Nasher and David Haemisegger at the seventh annual gala held at NorthPark Center last year. "I went to actually visit Nancy Nasher's parents' home with Howard [Rachofsky] at the same time I installed Self in the 90s, but I didn't meet Nancy until much later. It was so great to finally meet her through the Nasher Sculpture Center. Then I went to NorthPark, which is an extraordinary idea to put museum-quality art into the reach of ordinary people...this is something I'm really interested in. If you put great art in front of people who are not interested in art, you awaken their interest in art."
The last couple of years have been demanding of the artist as he tackles Bloodcube, a project he began with a sketch drawn on the wrapper of a bar of chocolate on a plane trip from China to London. Quinn was inspired to do something about the crisis in 2015, "when there was the first hit of refugees coming from Syria." The project, drawn from the blood of 5,000 people, both refugees and non-refugees, will open late this year on the steps of the New York Public Library, which since 1895 makes knowledge and education accessible to all. It's also a location selected by the artist because he wanted an architecturally significant site that many people would see. Comprised of two identical metric ton cubes of blood, the public sculpture will be housed in a pavilion designed with Norman Foster and his foundation.
"It's a massive logistical undertaking, and we've been working on it (me and my team) for two to three years. It's really about the idea of blood. Your blood, my blood, and refugees' blood; it's all the same. Under the skin, we're all the same." Each cube will be one of solidarity with equal parts refugee and non-refugee blood collected. Indistinguishable between one another, donated blood has been collected from mega-celebrities like Sir Paul McCartney, Kate Moss, Bono, Sting, and Jude Law, among others; each has recorded a video that will be screened publicly on billboards and elsewhere in host cities. The other half of the blood comes from resettled refugees who tell poignant stories, via video recording, of their journeys, most forced from their homes seeking asylum, usually to nations right next door that may be in bad shape as well—two of the most prominent are models Angok Mayen and George Okeny. Bono, a longtime activist of human rights who uses his talent and fame to address inequalities, said this in his video: "I'm Irish. If America had closed its door to the Irish during the famine 150 years ago, I wonder what would have been our fate."
Like the refugees, the Bloodcube project is a work of migration that will travel from New York to the non-Western world through Europe and eventually Lebanon, which has the most refugees per capita of any country. "Every time I install it I want it to bring out a different aspect." All of the monies raised from the artwork will be donated.
Quinn created the nonprofit organization Human Love to be the distribution vehicle for funds raised through the project. He is working closely with the International Rescue Committee who will distribute 50 per cent of the money, while the other 50 per cent will be dispersed by Human Love's board of trustees to other displacement-focused organizations. People can donate $25,000 to the charity and guarantee their blood will be included in the cube, giving Dallas denizens a unique opportunity to participate.
"Now more than ever we need to emphasize that shared humanity. We're human beings; the refugee is not alien. They're the same as us with hopes and dreams. They might be great artists, writers, minds, and souls who will enrich the world one day."
Quinn returns to Dallas at the end of March to receive his richly deserved MTV RE:DEFINE honor. It's a city he feels comfortable in. "So many people in Dallas are doing incredible things in the arts sphere...which, really, I can't think of another place that compares with it."